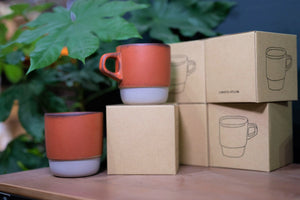 Classic Craft House vibes from this rugged amber/ orange stacking mug (320ml x1) from Kinto, Japan. The combination of a matte glaze with the smooth clay texture gives these mugs a look and feel that immediately stands out. 
Close (esc)
JOIN OUR MAILING LIST
10% off when you join our mailing list. Sign up for latest offers and news about our coffee world!
Sign Up Now
Age verification
By clicking enter you are verifying that you are old enough to consume alcohol.