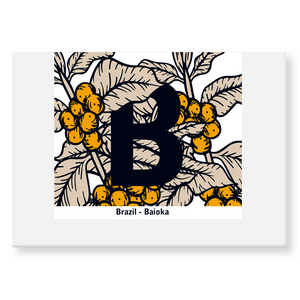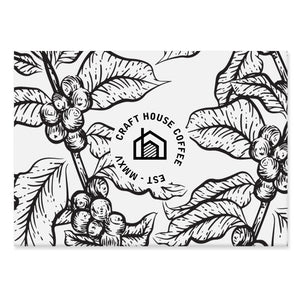 LIMITED RELEASE
- Cherry - Honey - Milk Chocolate -
 Renato Monteiro began his career in coffee working with his parents in Parana state. The family then relocated to the Cerrado Mineiro region 2000, seeking a more consistent
climate and settle in Araguari, Minas Gerais. Initially they worked on other producer's farms for nine years, each year edging closer to their dream of owning their own land; finally purchasing Fazenda Araras and its 10 hectares of coffee production.

Today, Renato and his family also lease the nearby Fazenda Baioka, a larger 40 hectare property with 42 hectares of Mundo Novo trees. Across all of their production they work with great dedication and care, executing thoughtful, natural processing to highlight the terroir of the region. Mundo Novo is the product of a natural cross between Sumatra and Red Bourbon; discovered in the municipality of Mineiros do Tiete, Sao Paulo in 1943.
WHOLEBEAN ONLY - If you would like your coffee grinding please add details in the comment section when checking out. 
PRODUCER: Renato Monterio
ALTITUDE: 940masl
PREPARATION: Natural
VARIETAL: Mundo Novo

- All of our coffee is packed in 250g FULLY recyclable boxes and bags.
- All coffee orders of 1 x 250g are sent in our letter box friendly boxes.
- We roast our coffee on Mondays and Wednesdays
- If you would like to ask any questions, drop us an email: info@crafthousecoffee.co.uk
Close (esc)
JOIN OUR MAILING LIST
10% off when you join our mailing list. Sign up for latest offers and news about our coffee world!
Sign Up Now
Age verification
By clicking enter you are verifying that you are old enough to consume alcohol.