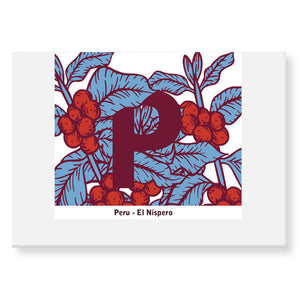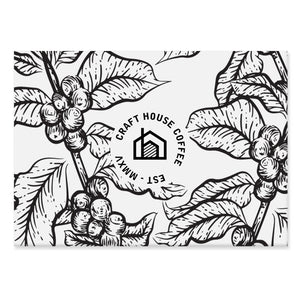 - Apple - Maple Syrup - Lemon -
Through extensive cupping, Tomas Bueno's farms, El Cedro & El Níspero, have been singled out as some of the top lots from the region this year. Tomas' farms are located in La Naranjas, La Coipa, around 20km from the association's headquarters in Jaen; high in Peru's Cajamarca department. Tomas has been a member of the association Alpes Andinos since it first began in 2019. This means he is often regarded as one of the founders, along with his neighbour, Elmer Cruz.

Tomas, aged 34, bought his first farm, El Níspero when he was just 25 years
old. Containing just 1 hectare of Typica and located some 500 meters away,
Tomas has been farming the same lot for over a decade, honing his craft and
using his 1 hectare to produce a fantastic cup. More recently, Tomas has inherited a second 2-hectare farm from his grandparents, El Cedro. Situated at over 1850masl, Tomas' lot is made up of local varieties, Typica, Red Caturra & Bourbon; all of which thrive at high altitudes. This year, Tomas has also begun renovating a small section of the farm to include Yellow Caturra. This drive to improve quality with new varietals in one shared and promoted by the association.

Alpes Andinos believing that producing great quality leads to producer empowerment and wider benefits for all coffee families. Tomas' farms take their names from the trees that surround them. Nispero, being the fruit tree found on the lot and Cedro after the huge cedar trees planted by Tomas's grandparents to create shade for their coffee. Like many other farms in the region, the name is symbolic, reflecting the distinguishing characteristics in the surrounding area. Although other fruits may be found at Tomas' farms, coffee production is currently the only means of income, with any other produce grown reserved only for personal consumption. Tomas however, is a keen beekeeper! Although, this too is just a hobby.
PRODUCER: Tomas Bueno Medina
ALTITUDE: 1850masl
PROCESS: Washed
VARIETAL: Red Caturra, Typica + Bourbon
- All of our coffee is packed in 250g and 1kg fully recyclable boxes and bags.
- All coffee orders of 1 x 250g are sent in our letter box friendly bag, orders over 1 x 250g are sent in boxes.
- We roast our coffee on a Mondays and Wednesdays
- If you would like to ask any questions, drop us an email:
info@crafthousecoffee.co.uk
Close (esc)
JOIN OUR MAILING LIST
10% off when you join our mailing list. Sign up for latest offers and news about our coffee world!
Sign Up Now
Age verification
By clicking enter you are verifying that you are old enough to consume alcohol.