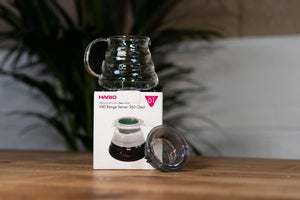 It's heatproof glass and rubber seal hold heat and retains freshness. The D-shaped glass handle facilitates precision of pouring, with a silicone-wrapped glass lid for fully-sealed stoppage and maximum heat retention.
The beehive-shaped server, which pairs perfectly with any sleek Hario V60, is marked with measuring lines (both in cups and ml) to allow the brewer to focus on pour and drip rate.
It is dishwasher safe, microwaveable and can brew up to 4 cups of coffee.
Compatible with Hario V60 Drippers and Aeropress
Close (esc)
JOIN OUR MAILING LIST
10% off when you join our mailing list. Sign up for latest offers and news about our coffee world!
Sign Up Now
Age verification
By clicking enter you are verifying that you are old enough to consume alcohol.