Sanremo X-ONE Coffee Grinder
X-ONE is a high-precision '3 in 1' grinder, made to preserve each bean's characteristics.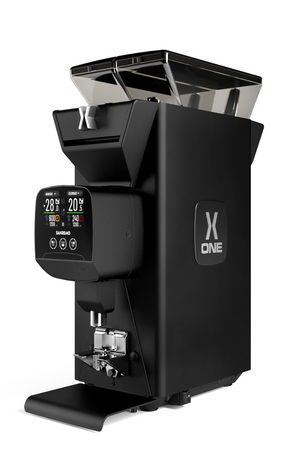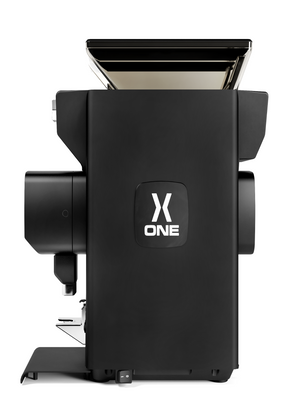 ---
Lease, Buy + Pricing Details
Call us on 01273 855696 or leave your details below and we'll get back to you with our full lease, buy details & pricing.
Sanremo X-ONE Coffee Grinder
THE FUTURE IS ALREADY HERE
AVAILABLE FOR UK PRE-ORDER NOW
Sanremo are revolutionising the concept of grinding working from the fundamental point; to preserve the characteristics of each coffee, from bean to cup.
X-ONE is a high-precision '3 in 1' grinder, made to preserve each beans' characteristics, without loss of aroma, product waste and with consistency and repeatability.
---
Features
3 Grinders in 1
Double hopper of 1.2kg, which is able to support two different coffees, with independent doses and customisable grind speeds (800-1500 rpm), removing the need for multiple types grinders. 
Pre-prepared grinding
The X-ONE is the only coffee grinder in the world which integrates a system of weighing coffee beans (7 - 30g) before grinding and releasing the predetermined amount into the grinding chamber. This wastes zero coffee.
Bypass drawer
It is possible to grind a third coffee with direct access to the grinding chamber. Set burrs distances and the speed of the bypass, with customisable presets.
Save your presets
X-ONE is built at your service with x12 presets that can be set with mixed speeds, grain size and weight for better coffee management - from espresso to filter. Through the menu you can also monitor the state of the machine and regulate, adjust and calibrate the balance, as well as use the purge cycle and clean the machine.
Fast, accurate dosing technology
The vertical flat grinder represents the ultimate in performance and durability, with a 'Black Diamond' DLC treatment to reduce friction and electrostaticity. 
Intuitive 4.3" HDMI display in tempered glass
Make sure everything is under control: easily adjust settings and track temperature, humidity and blade life.
Removable weighing basket and hoppers and panels
Makes cleaning and maintenance simple.
---
Machine Specifications
Power
TBC
Burrs
Vertical Flat
Burr diameter
98mm
Motor speed 50 Hz
800 -1500 rpm
Motor speed 60 Hz
800 -1500 rpm
Hopper capacity
1.2kg
Net weight
TBC
Width
230mm
Height
580mm
Depth
510mm
Lease, Buy + Pricing Details
For full lease, buy + pricing details, please call or email us using the following details. Alternatively, sumbit the form above and we'll get back to you asap.