Sanremo Zoe Vision
The Sanremo Zoe Vision coffee machine is the perfect everyday espresso machine due to its built in shot timers, electronic pre-infusion and quality aesthetics.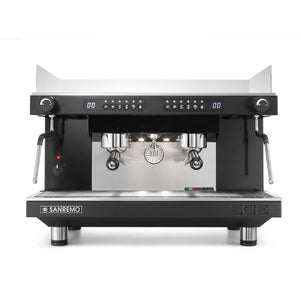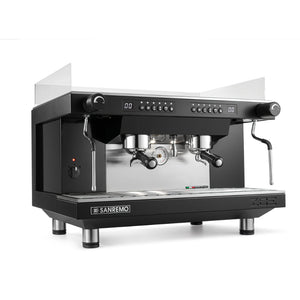 ---
Lease, Buy + Pricing Details
Call us on 01273 855696 or leave your details below and we'll get back to you with our full lease, buy details & pricing.
Sanremo Zoe Vision
The Zoe Vision espresso machine boasts strong performance, and the shot timer enables you to provide consistently great coffee.
---
Machine Specifications
Machine Size Options
2 Group, 3 Group
Shot timers and barista lights
Standard
Colour Options
Black/Black, White/Black
Customisation Colours
On Request
Single Boiler
Yes
Pre Infusion
Selectable - On/Off
Temperature Control
Pressure Stat
Cup Warmer
Factory Order Only
Pressure Indicator
Dual Gauge
Cool Touch Steam Wands
Alternative options available
Power Options
1 Group 2.35kW, 2 Group Compact 2.7kW, 2 Group 3.15kW, 3 Group 5.8kW
---
What's Included?
Free Barista Kit
Essential equipment to get the most from your machine.
Professional Training
Professional barista training at our Sussex roastery or at your site.
Free Coffee
2kg of Craft House Coffee to get you started
Lease, Buy + Pricing Details
For full lease, buy + pricing details, please call or email us using the following details. Alternatively, sumbit the form above and we'll get back to you asap.