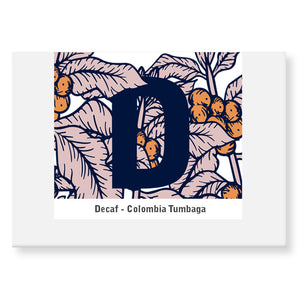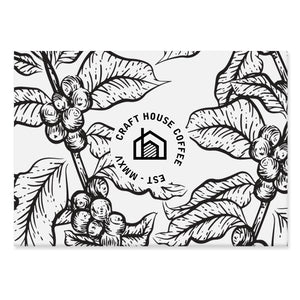 - Mandarin, hazelnuts, chocolate -

Our washed, single origin sugarcane decaf is bright, full of flavour and won't keep you up at night. It's a perfect example of a no-compromise decaffeinated coffee.
ALTITUDE: 1400-2100 masl
LOCATION: Cauca, Tolima, Antioquia and Eje Cafetero 
PREPARATION:
Fully washed, Sugarcane Decaf
VARIETY: Caturra, Typica, Catuai
OWNERS:
Farmers working with Sucafina Colombia
.
- All our coffee is packed in 200g, 500g or 1kg foil lined, valve bags.
- All coffee orders of 1 x 250g are sent in our letter box friendly bag, orders over 1 x 250g are sent in boxes.
- We roast our Decaffeinated coffee on a Monday
- If you would like to ask any questions, drop us an email:  info@crafthousecoffee.co.uk
Close (esc)
JOIN OUR MAILING LIST
10% off when you join our mailing list. Sign up for latest offers and news about our coffee world!
Sign Up Now
Age verification
By clicking enter you are verifying that you are old enough to consume alcohol.