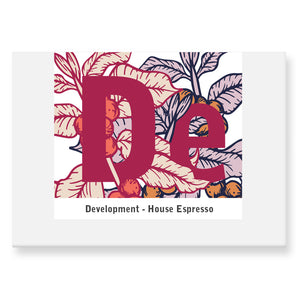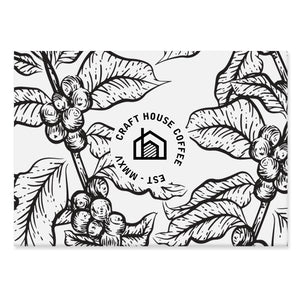 - Chocolate, caramel, blueberry -
 Our Development
blend was created to deliver a more traditional style of espresso. Keeping the focus on transparency and high quality arabica, our aim is to produce an espresso to suit a busy fast paced environment, creating a smooth rich drink interesting enough to be impactful but also good for cutting though 12-16oz milk based drinks.
Subscribe and save:
*Free shipping if you subscribe to this coffee 
Brazil Cerrado

ALTITUDE: 1100masl

LOCATION: Cerrado Mineiro

PREPARATION: Natural

VARIETY: Catuai

OWNERS: Various

Ethiopia Kercha

ALTITUDE: 2000 masl

LOCATION: Guji, Oromia

PREPARATION: Natural

VARIETY: Heirloom

OWNER: Israel Degfa
RECIPE:
We would recommend the following:
Dose: 17 grams
Brew temperature: 201ºF/94ºC
Brew weight: 30-38 grams
This recipe should be taken as a starting point, and not an absolute as different machines extract in different ways.
- All our coffee is packed in 250g and 1kg fully recyclable boxes and bags.
- All coffee orders of 1 x 250g are sent in our letter box friendly bag, orders over 1 x 250g are sent in boxes.
- We roast our coffee on a 
Tuesdays
 and 
Wednesdays
Close (esc)
JOIN OUR MAILING LIST
10% off when you join our mailing list. Sign up for latest offers and news about our coffee world!
Sign Up Now
Age verification
By clicking enter you are verifying that you are old enough to consume alcohol.