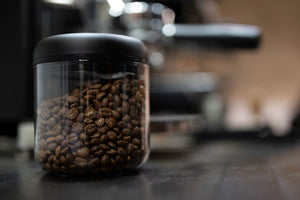 The primary way to keep your beans from losing their flavour is to keep them from oxidising. 
This smart 0.7ltr Atmos jar limits air, moisture, and odours from inside with a clever vacuum feature to stop your beans from ageing.
Simply twisting the lid back and forth sucks the air from the jar to prevent oxidation and extends the shelf life of your coffee beans by up to 50%.
These robust jars are built to withstand the test of time.
Close (esc)
JOIN OUR MAILING LIST
10% off when you join our mailing list. Sign up for latest offers and news about our coffee world!
Sign Up Now
Age verification
By clicking enter you are verifying that you are old enough to consume alcohol.