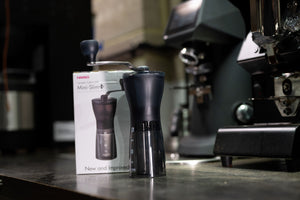 The Mini Mill Slim Plus is Hario's most popular hand grinder. It's sturdy, accurate, compact.
The slim build and transparent design provide a great view of the grinding process. Adjustment is easy - simply twist the knob under the ceramic burrs to dial in with ease.
The main body is reinforced by the hexagonal adapter for the handy lock. This steadies the grinder when you're using it, making slippage and fumbling a thing of the past. The ceramic burrs also contribute to a consistent, even grind.
Capacity is 24g in base, 50g in hopper.
Close (esc)
JOIN OUR MAILING LIST
10% off when you join our mailing list. Sign up for latest offers and news about our coffee world!
Sign Up Now
Age verification
By clicking enter you are verifying that you are old enough to consume alcohol.