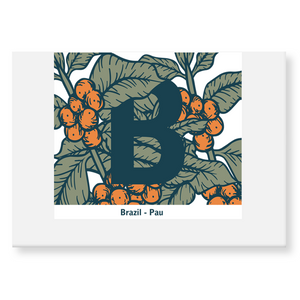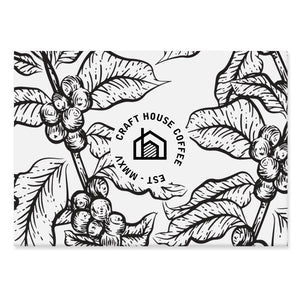 - Cherry, Nougat, Milk Chocolate -
Pau delivers the best of a classic naturally processed Brazilian coffee. It is named after
Brazil's national tree and exemplifies the consistent quality created by seasoned farmers
who use all available technologies to advance production by growing coffees that offer
smooth, balanced profiles despite the changing environmental conditions.

Minas Gerais is Brazil's principal agricultural state and Cerrado is home to many of
the country's most celebrated estates, with expertise in planting, harvesting, drying and
sorting. Cerrado coffees are known for their big body, rich chocolate notes and velvety
texture when pulled as an espresso. 
 PRODUCER: Cerrado Mineiro Designation of Origin Accredited Producers
ALTITUDE: 1100masl
PREPARATION: Natural
VARIETAL: Catuei

- All of our coffee is packed in 250g and 1kg fully recyclable boxes and bags.
- All coffee orders of 1 x 250g are sent in our letter box friendly bag, orders over 1 x 250g are sent in boxes.
- We roast our coffee on Mondays and Wednesdays
- If you would like to ask any questions, drop us an email: info@crafthousecoffee.co.uk 
Close (esc)
JOIN OUR MAILING LIST
10% off when you join our mailing list. Sign up for latest offers and news about our coffee world!
Sign Up Now
Age verification
By clicking enter you are verifying that you are old enough to consume alcohol.