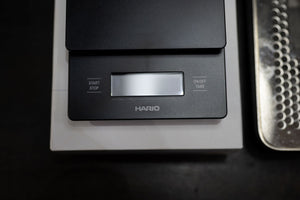 The Drip Scale from Hario allows you to simultaneously weigh coffee beans, measure hot water and time the extraction, which are the main parameters for the production of quality coffee from a dripper or other slow coffee brewing gear.
The Hario V60 Drip Scale is one piece of kit that will help you emulate professional brewing at home. Featuring 0.1g accuracy and an integrated timer, the scale is extremely responsive resulting in consistent brewing.




Close (esc)
JOIN OUR MAILING LIST
10% off when you join our mailing list. Sign up for latest offers and news about our coffee world!
Sign Up Now
Age verification
By clicking enter you are verifying that you are old enough to consume alcohol.