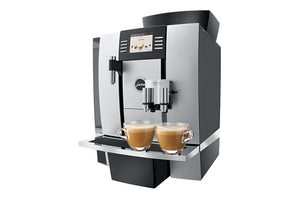 The GIGA X3 Professional offers everything needed by staff in a large office or break-out room.
Machine Specifications
Variable brewing chamber: 5g -16g 
Intelligent Pre-Brew Aroma System (I.P.B.A.S.©)Yes
Active bean monitoringYes
Energy Save Mode (E.S.M.©):Yes
High-performance pump, 15 bar:2
Thermoblock heating system:2
Fluid System:2 parallel
Monitored drip tray: 2
Maintenance status display: Yes
Integrate rinsing, cleaning & descaling program: Yes
Adjustable water hardness: Yes
What's Included
FREE 3 year servicing*
FREE
3 year break down cover*
2KG of Craft House Coffee to get you started
* Prices exclude VAT
Terms and conditions:
Prices shown are subject to a 20% deposit and are represented over a 36 month period. CraftHouseCoffee LTD use a use a third party leasing company for all applications of credit. Details passed to us are not stored during the application process. Plans are subject to credit and afford ability checks.
Call us on: 01273 01966or message us below with details of what machine you are interested in and we will get back to you with our full lease, buy details & pricing. We are official distributors of Sanremo and Jura machines and are proud to offer their premium products.
.