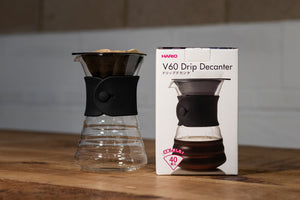 The Hario V60 Drip Decanter is a stylish merger of the iconic Hario V60 and elegant Hario glass servers, allowing you to brew coffee directly into the serving vessel. Just grind your beans, brew and serve.
With a capacity of 700 ml, the matte black ridged V60 cone sits comfortably at the opening of the glass carafe, cushioned by a removable silicone band for heat retention and comfortable handling. For maximum ease of cleaning, all components are easily disassembled and dishwasher-safe. This decanter is compatible with Hario V60-02 filter papers.
The decanter is heat-proof and dishwasher friendly.
Don't forget to top up your filter papers.
Check out our brew guide HERE
Close (esc)
JOIN OUR MAILING LIST
10% off when you join our mailing list. Sign up for latest offers and news about our coffee world!
Sign Up Now
Age verification
By clicking enter you are verifying that you are old enough to consume alcohol.